Introduction to Trash Sorting Line
Maybe many people want to know the reason why trash sorting line is popular in the international market. Under the situation of lacking resources, more people pay high attention to waste sorting. At this time, these separation machines effectively sort all kinds of waste. After recycled, this waste can be reused as a resource, which will save massive non-renewable resources. Accordingly, if you have a plan to deal with the waste in your countries, why don't try it?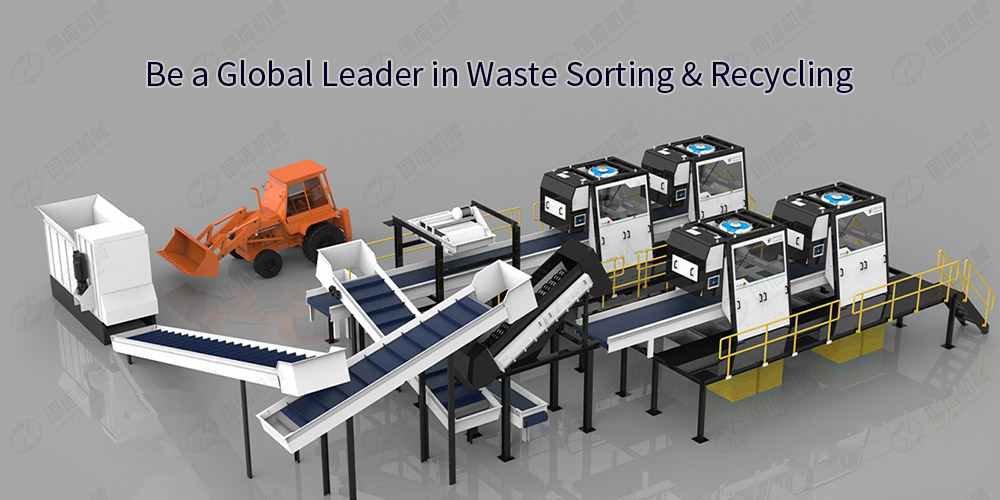 Guoxin Waste Sorting Line for Sale 2022
The whole trash separator system usually includes a
plate feeder
, uniform materials spreader,
rotatory screening machine
,
winnowing machine
, magnetic separation machine, and
manual sorting platform
, and so on. The largest capacity of this system is about 400 tons per day. Because the trash sorting facility asks for a fairly large area of work, the clients need to make sure they have enough space to install the waste recycling plant.
Working Process of Trash Separation Line
1. The waste is poured on the feeding platform. Then, the waste is delivered to the feeding machine through a hopper. In this process, the uniform feeder plays an important role. This machine has the function of uniform feeding which guarantees the normal operation of the next device.

2. Then, the waste is screened by a rotating screening machine. The aperture of the sieve tray is 50mm.
Accordingly, through the sorting of solid waste, the waste can be preliminarily classified into two types by garbage recycling machine:
a. Organic compound. After being selected by a magnetic separator, the waste can be directly put into composting workshop.
b. Large pieces. These materials need several processes to screen by bag breaker, rotating screen machine, comprehensive winnowing machine, etc. Finally, we can get the plastic film, heavy materials, and mixture material.

Wide Applications of Final Products Sorted by Sorting Equipment
1. The plastic film can be made into plastic particles or converted into pyrolysis oil by plastic pyrolysis machine.
2. Waste metal can be smelt and recycled again.
3. The waste glass can be reused.
4. The stone and sand can be made into bricks which construction sites need.
5. Organic matter can be made into biogas by using fermentation system.

Advantages of Guoxin Waste Sorting System
1. It can handle a variety of materials, both municipal solid waste and mining waste.
2. A specialized deodorization system can help make a cleaner and healthier working environment.
3. We have a monitoring system to keep the working process smooth.
4. The whole trash separation machine is in a sealed space to reduce waste pollution.
5. We provide a de-dusting system for those who want to sort mining wastes.
6. The structure of our machine is very easy for transportation and installation.
7. We can alsp provide all-around after-sale service to the clients, including the equipment installation and commissioning and the subsequent maintenance.

Parameters of Trash Separation Line
Model
GX-100
GX-200
GX-400
Raw materials
Municipal solid waste, household waste, industrial waste, landfill waste and mining waste
Capacity
100T/D
200T/D
400T/D
Power
149KW
224.7KW
279KW
Area
2400㎡
2800㎡
3000㎡
Working time
20 hours
20 hours
20 hours