Decoration waste sorting machine introduction
Our Guoxin Machinery are specialized in waste treatment equipment, We have developed and manufactured a waste recycling sorting and processing system, which can process various types of waste. which can be called domestic waste sorting machine, construction waste sorting machine, decoration garbage sorting machine.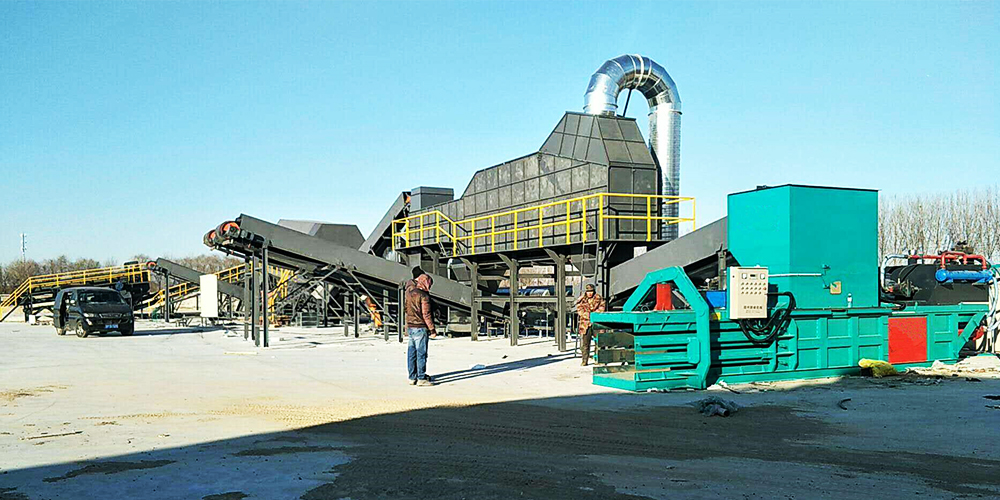 The decoration waste sorting machine can separate the waste fabrics, plastic bags and other sundries in the recycled aggregate of decoration waste, and can also clear out the large and medium-sized wooden blocks and plastic stool wastes. After two screenings, the impurity separation rate reached 98%. Among them, concrete and waste masonry are used to produce coarse and fine aggregates, which can be used to produce concrete and mortar of corresponding strength grades or to prepare building materials such as blocks, wall panels, and floor tiles. After adding solidified materials to the coarse and fine aggregates, it can also be used for the base of the road pavement. Waste bricks and tiles are used to produce aggregates, which can be used to produce recycled bricks, blocks, wall panels, floor tiles and other building materials products. Muck can be used for road construction, pile filling, foundation foundation, etc. Abandoned wood construction waste, wood that has not been significantly damaged can be directly reused in other places, and severely damaged wooden components can be used as raw materials for wood regenerated boards or papermaking.

Working Process of Decoration waste sorting equipment
After the construction mixed garbage enters the storage bin of the garbage yard, the grab or forklift feeds the chain plate machine, and the chain plate machine sends the garbage into the large-size garbage removal device, and separates the large-size garbage larger than 500mm. The garbage is sent to the roller screen by the belt conveyor for screening. The screen aperture is initially set to 50mm, and the garbage can be divided into materials less than 50mm (mostly sand and gravel) and materials larger than 50mm (wood, light objects, bottles, stones, bricks, etc.). Among them, the under sieve less than 50mm is separated from the light impurities after the magnetic separator removes iron, and then transferred to the temporary storage area for centralized transportation and backfilling or screening into fine aggregates. The sieve larger than 50mm is sent to the air separation system by the belt conveyor. After the air separation system, the garbage is divided into light substances (plastics, light combustibles, wood, textiles, etc.) and heavy substances (bricks, stones, etc.) , and other construction aggregates), light materials enter the manual sorting platform for classification and recycling, heavy materials (pure construction waste) enter the manual sorting table to sort out a small amount of debris other than construction waste, and then enter the crusher and vibrate. The sieve is made into building aggregate.

Case of Decoration waste sorting equipment
Parameters of Decoration waste sorting equipment
The Construction waste management machines have different models, including GX-100, GX-200, GX-400. and their capacity ranges from 100 to 400T per day, which satisfies the different requirement of customers.
Do you want to know more information about Guoxin Construction waste sorting machine? Why don't contact us directly? We have professional personnel to deal with your question. Email us right now!

Model
GX-100
GX-200
GX-400
Raw materials
Municipal solid waste, household waste, industrial waste, landfill waste and mining waste
Capacity
100T/D
200T/D
400T/D
Power
149KW
224.7KW
279KW
Area
2400㎡
2800㎡
3000㎡
Working time
20 hours
20 hours
20 hours